Web Exclusive
His Recovery: A Miracle
An Eight-Year-Old's Crash Foreshadowed a Purposeful Future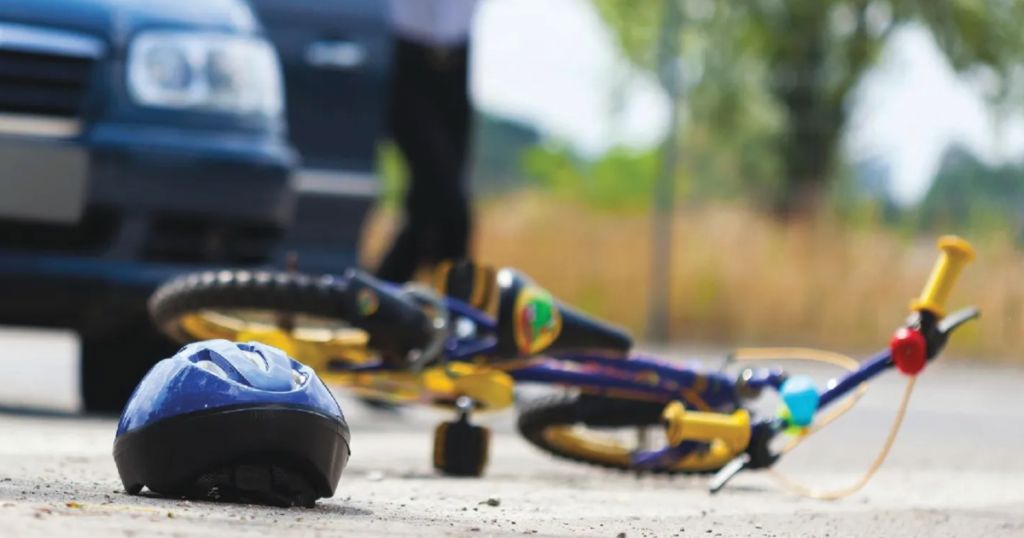 When my son, Timmy, was eight years old, he enjoyed riding his bike around our neighborhood. At the end of one block was a steep hill which Timmy used to increase his speed as he tried for a new record.
"Hop in the car. It'll be a few minutes till your sister finishes lunch—then we'll go down to the beach," said Timmy's mother.
Timmy decided he had time for one more bicycle ride around the block. He leaped onto his steed, sped up past our neighbors' houses and made a racing turn to the left down a hilly street. At that moment, a car was coming toward that same intersection at the bottom of the hill. That's where they collided.

It took me a while in my younger Christian life to accept the reality of our Lord providing something called a miracle to help us in our extreme encounters in life. We all live in an imperfect world. None of us are immune to accidents, but our loving Lord is always watching and aware, and people stand ready to serve as His instruments.
This is the story of that terrible day and the miracles which preserved my son Timmy's life in those brief moments and beyond.
As Timmy hurtled down the street, he did not realize that his speed had overpowered his braking ability. Entering the intersection, he crashed into the car, became entangled in the wreckage of the bike, bounced off the fender, hit his face on the right door post and slid into the projecting edge of the right rear bumper, which caught his right leg and ripped it off below the knee. Amazingly, his right foot, although twisted backward just above the ankle, was totally untouched. The impact separated him from the mangled bike and threw him to the curb, where he lay semi-conscious.
As he lay there dying, two women walking on the sidewalk started screaming. Mr. Rose was in his yard raking leaves, heard the screams, ran across the street, quickly removed his belt, fashioned a tourniquet and stopped the gushing blood.
The ambulance that was summoned was returning from a run nearby the accident. I was told later that it was one of the fastest responses the medics had ever made. Dr. Ward McFarland had the day off from his busy schedule as the leading orthopedic surgeon in southeastern Connecticut. Given a free day and ideal weather, Dr. McFarland would usually be out on the Long Island Sound for a day of sailing. He told me later that something urged him to forego a sailing day and stay at Lawrence Memorial Hospital in New London.
When the ambulance arrived at the ER, the emergency team was unanimous in concluding that Timmy's lower leg would have to be amputated. Learning that Dr. McFarland was in the hospital, the ER team called him in.
"I know this boy. I've got to try and save his lower leg. Maybe this is why I am here today," he was heard muttering to himself as he ordered blood transfusions. He called a friend, a plastic surgeon, who also just happened to beat the hospital even though he was off duty. He quickly assembled a surgical team, and for the next five hours, they delicately put the pieces of Timmy's lower leg back together.
The extent of the damage made for an extremely complicated orthopedic puzzle which the doctor and his team slowly and tenderly put back together. After five hours of delicate surgery the lower leg began to resume its former shape, connected at the top to the bones leading down from Timmy's knee and at the bottom reattached to the intact foot just above the ankle bones.
Would there be enough regeneration of inner muscle and tissue to form a functional leg and foot? Would there be enough interlacing of artery and vein to provide adequate circulation to the undamaged foot? Would the tendons and muscle function so that the foot could move right or left, up and down, or not at all?
Praying, Watching, Waiting
At this point, my wife and I, the medical team and a growing majority of the faith community knew that the answer to these "would" questions could only come from concerted prayer, watching and waiting. Near the end of the second week, color began to return to Timmy's foot. In the third week, there was twitching in his toes. The miracle of life was again returning to Timmy's foot and leg.
As the leg slowly healed, the strips of skin from various parts of Timmy's body coalesced and covered the remaining small areas of open flesh. The orthopedic rehab team fashioned a spring-loaded leg brace which automatically lifted the front of Tim's foot with every step he took. He wore that brace for one year.
Further reconstructive surgery was done at Swedish Covenant Hospital in Chicago, where we had recently moved. After months of hard rehab work, Timmy's condition had improved tremendously. There was not a dry eye in the rehab center the day he lifted his foot using its new inner workings.
From Crash to Career
When Tim was 16, he came to me about a job opportunity. "Dad, I have a chance to work with Dr. Baer at Rockford Memorial Hospital. I would be working in his orthopedic cast clinics out of the ER most of the time. What do you think?" Dr. Samuel Baer was the head of the leading orthopedic surgery team in the city. Tim had somehow finagled an interview with him, and the outcome was inviting.
"If you can stand the sight of blood, think fast and stand strong on that leg, go for it."
He took the position, and this began the earliest stages of his transition to his career as an emergency medical technician (EMT) and later, as a paramedic.
On April 1, 1982, Tim was accepted to the Chicago Fire Department as a fire paramedic candidate, after passing a rigorous physical and knowledge test. For the next eleven years, he worked primarily on one of the busiest ambulances in Chicago out of his West Side fire station (Engine 117, Tower Ladder 14, Ambulance 15).
Years later, due to a job-related injury, Tim retired as a district relief paramedic officer. Tim completed work at two graduate schools (one for licensure as a family counselor and another for his M.Div.), while also working as a new crisis team therapist based in the ER/ Trauma unit of Illinois Masonic Medical Center. From there, Tim was also recruited and vetted into the National Disaster Medical System, which is partnered with the Department of Defense, where he serves as a behavioral health officer working with the Region V Disaster Mortuary Operational Response Team. Lastly, Tim serves as a full-time pastor of counseling and director of clinical counseling internships at his home church around Lake Geneva, Wisconsin.
Reflecting on the events surrounding the bike accident and beyond, I realize that this eight-year-old boy would not be alive were it not for the miraculous occurrences that immediately followed the accident. We in the faith community are thankful for these miracles and for the many crucial interventions that defied reason and continued to occur during Timmy's recovery.
In his career endeavors, Tim continues to follow Christ's leading to serve Him and be a dynamic witness of God's ability to intervene. We know that "God causes everything to work together for the good of those who love God and are called according to His purpose for them" (Romans 8:28).
This article was originally published in the October 2019 issue of The War Cry.