Write for Us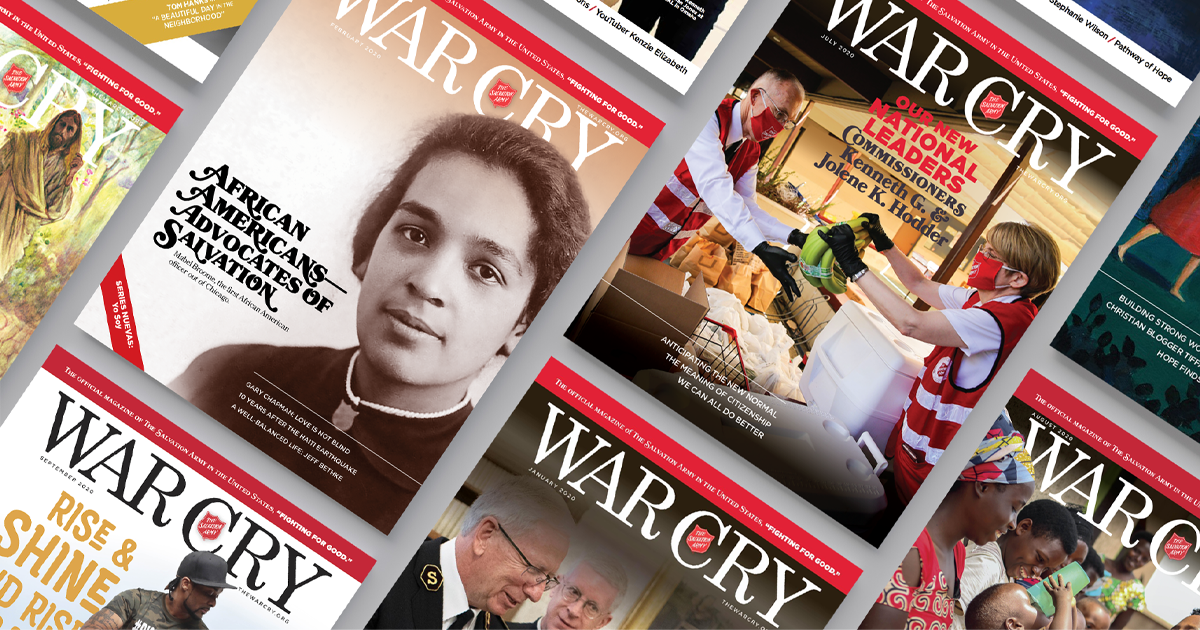 The War Cry represents the Army's mission through news, profiles, commentaries and stories. It looks to bring people to Christ, help believers grow in faith and character, and promotes redemptive cultural practices from the perspective of Salvation Army programs, ministries and doctrines. Readership consists of those in and involved with The Salvation Army as well as the general public. It is distributed in bulk to Salvation Army locations for use in ministry, and to individual subscribers. Published 12 times per year, with special issues at Christmas and Easter. The average circulation is 185,000 copies monthly, 1.7 million at Christmas and 1 million at Easter.
HOW TO SUBMIT
Please use our online submission form.
WHAT TO SUBMIT
Articles
Reprints
Photographs (600 dpi)
Single Strip Comics
News
Non-Fiction
Fiction (Limited)
Use New Living Translation
PAYMENT
Payment made at time of acceptance • $0.35 per word for first rights, one-time use articles • $0.15 per word for reprints
SUBJECTS OF INTEREST
Christian Growth
Evangelism
Personal Witness
Articles related to the Salvation Army's mission of preaching the Gospel and helping people in need, and articles that portray Salvation Army personnel & programs.
We look for submissions that address contemporary topics and concerns in ways that inspire people to grow in faith.
We welcome well-researched articles that help individuals and families live victoriously within the context of modern life (marriage, parenting, stress, loss, personal growth).
Profiles of people and programs that are making a positive impact for the gospel.
Articles should show by example and by careful research why the given topic, profile, or feature is meaningful for readers and how it can improve their lives.
OTHER
Submit articles for a particular theme 60 days prior to the issue date. Please limit these submissions to 800 – 1250 words.
Special Christmas and Easter Holiday editions focus on the meaning of the seasons, and include riveting accounts of spiritual rebirth. Submit 6 months prior to the publication of these issues.
Photos accompanying submissions, where appropriate, make submissions more compelling.
Brief news items and sidebar pieces also accepted. Please limit these submissions to 100 – 400 words.
Response time for approval 3 to 4 weeks
The War Cry Themes: 2021
JANUARY: THE WAR CRY PAST, PRESENT AND FUTURE

Honoring the 140 years of The War Cry, one of the longest-running, continuous publications in the U.S., tracing its growth and change from William Booth's original vision through its many upgrades in format, content and distribution.
A survey of notable editors, writers and staff members through the decades.
Current editorial practices and network of editorial, design, production, circulation and distribution personnel.
Vision for The War Cry in the years ahead—as part of an integrated mix of communication channels advancing the mission and message of the Army from a national perspective.
Why the name The War Cry?
Roll out of new circulation plan.
FEBRUARY: LOVE THROUGH THE AGES
Epic love stories in The Salvation Army, from the founding to today.
What love has to do with dating, marriage, family and society today.
The Army's understanding of the Love of God and what it means for living life pleasing to Him.
MARCH: GOOD VERSUS EVIL/TEMPTATION
The reality of temptation and how to avoid it.
Stories of people struggling with temptation and how to do the right thing.
Examples of God's mercy, forgiveness and call to obedience.
Practical explanation of spiritual warfare.
APRIL (SPECIAL EASTER EDITION): THE CENTRALITY OF THE CROSS
Overcoming Betrayal—Jesus was betrayed when he was put on the Cross, yet He didn't stoop to His accusers' level. The hurt He must have felt, yet He didn't give that hurt back.
When the cock crows—How to cope when a relationship goes south, with being ghosted/rejected, with shame, etc. Coming to Jesus as we are.
Doctrine of atonement in layman's terms.
MAY: MULTICULTURAL MINISTRY
Diversity of The Salvation Army's reach in the U.S. (Atlanta, San Jose, Ft. Lauderdale, etc.).
JUNE: PURSUIT OF HAPPINESS
The true meaning of happiness.
What constitutes true success in life?
Honoring commissioned cadets and graduates.
How to handle life's transitions.
JULY: LEADERSHIP AND POWER
Qualities of a good leader.
Examples and stories of good leadership in action.
Leadership styles portrayed in the Bible.
AUGUST: HARNESSING OUR EMOTIONS
How to deal with jealousy: Overcoming the desire to want what we can't have.
The importance of emotions in holistic ministry: Nurturing mind, body and spirit.
God's emotional nature and our godly emotions.
Prison ministry (ACA Conference).
SEPTEMBER: COURAGE AND PERSEVERANCE
Everyday superheroes.
20 years after 9/11.
Lessons from the pandemic.
What makes a hero?
OCTOBER: DEEP GRACE
Superficial vs. substance: How does one go deeper in the water of faith?
Appearance vs. reality: Dropping our masks to reveal who we really are in God's sight.
Living authentically: Who are we when people can't see us? How do we serve Him when no one is watching?
The pitfalls of materialism and social media.
Stories of people who did things with grace and humility.
NOVEMBER: WHEN TO ASK FOR HELP
Coming to terms with depression, anxiety and fear.
No shame in reaching out for a helping hand.
Examples of how The Salvation Army can be that helping hand.
Mental health and the holidays.
DECEMBER (SPECIAL CHRISTMAS EDITION): DELIVERANCE
The Incarnation is for today: In Jesus is true freedom.
Giving: God's precedent for humankind.
What if Jesus wasn't born?
Family traditions in the 21st century.
* Subject to change by the incoming Editor-in-Chief
Salvation Army Publications: