Try This
Recipe: Immune-Boosting Chicken Soup
My take on a traditional Yemenite recipe, this chicken soup is nutrient-rich, easy to make, and best of all, delicious! It is a perfect choice for boosting immunity as well as for helping those who are feeling poorly to feel better!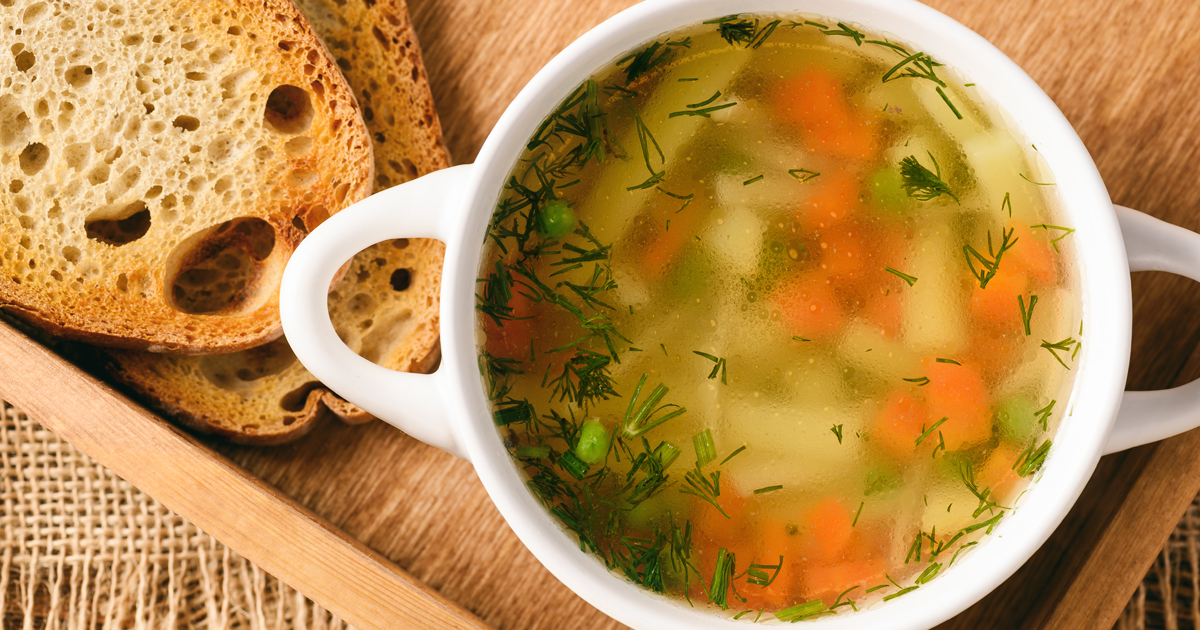 When I was a child, my mother's first response when I told her that I was feeling unwell was always to make me chicken soup. Although the recipe changed a bit each time she made it, depending on what food was readily available in the house, eating that soup always made me feel better.
Although my mother acted out of instinct, based on generations of moms who have used chicken soup as a means to promote wellness, modern science has supported the idea that chicken soup can help to boost immune system function, both from the airway-cleansing powers of hot liquids, and the nutrient-rich benefits of the food used to make chicken soup. Recent studies have shown that chicken meat and broth contain naturally-occurring chemicals that help to reduce inflammation. Additionally, the protein from the meat, fiber and nutrients from the vegetables, and healthy carbohydrates from the potatoes help provide the body with the fuel that it needs to help fight off infection.
This variation on a traditional Yemenite recipe showcases some items not usually found in many traditional chicken soups. Hawaij, a spice blend known for its anti-inflammatory properties, further helps promote a healthy immune response. The sun-dried tomatoes not only provide a pop of flavor but also give some additional immune-boosting response from the antioxidants it contains.
If you do not have hawaij on hand, you can easily make it using the recipe below or can substitute the spice for an additional tablespoon of yellow curry powder.
Enjoy!
---
MB's Chicken Soup

My take on a traditional Yemenite recipe, this chicken soup is nutrient-rich, easy to make, and best of all, delicious! It is a perfect choice for boosting immunity as well as for helping those who are feeling poorly to feel better!
Ingredients:
4 boneless and skinless chicken breast halves, cubed
3 Cups chicken stock
4 russet potatoes, diced
1 medium leek, chopped
2 celery stalks, chopped
2 large carrots, chopped
½ cup sun dried tomatoes (dry pack)
2 cloves (or 2-3 teaspoons) garlic, minced
1 Tablespoon hawaij (recipe below)
2 Tablespoons yellow curry powder
2 teaspoons crushed red pepper
1 Tablespoon dried sage
Salt and cracked black pepper to taste
Directions:
Instant Pot
Turn on saute setting. Add chopped chicken, potatoes, leek, celery, carrots, tomatoes, garlic, hawaij, curry powder, crushed red pepper, sage, and chicken stock to pot.
Turn off saute setting, and cover. Set vent to seal, then press manual setting, and set for 30 minutes.
When timer is done, either manually vent (using safety precautions to prevent burns), or allow to vent naturally. When venting is done, remove lid, turn to saute, and then stir contents of pot. Serve hot. Enjoy!
Stove Top
In large stock pot or dutch oven, add ½ cup of broth, then turn to medium-high.
Add minced garlic, and cook for 2 minutes.
Add cubed chicken, and cook until pink color is gone.
Add remaining ingredients, stir, then reduce heat to medium-low, cover, and cook for 15 minutes (or until vegetables are soft), uncovering and stirring every 5 minutes to prevent sticking.
When vegetables are soft, season with salt and pepper to taste, then serve hot. Enjoy!
Recipe by MB
Hawaij Spice Blend

Although you can purchase this spice blend, it can also be made at home. This traditional Yemenite spice goes very well in soups, stews, on meat, vegetables…the sky is the limit for its uses!
Ingredients:
2 Tablespoons cumin seeds
1 Tablespoon caraway seeds
1 Tablespoon coriander seeds
1 1/2 Tablespoon ground turmeric
1 1/2 Tablespoon black peppercorns
2 teaspoons cardamom seeds removed from their pods (about 30 pods)
6 whole cloves or 1/4 teaspoons ground cloves
Directions:
Lightly toast the cumin, caraway and coriander seeds in a skillet over medium heat for 1-2 minutes until fragrant, being careful to not burn.
Pour the toasted seeds into a cool bowl, then, when cooled, place the toasted seeds in a coffee or spice grinder along with the remaining spices.
Pulse the grinder in long, slow pulses to grind the seeds into a powdery spice mix, stirring inside the grinder periodically to evenly distribute the seeds. It may take a few minutes for the spices to reach the desired powdery texture.
Store in a cool and dry place.
Recipe by Tory Avey
---
Marybeth Mitcham holds undergraduate degrees in the biological and human development sciences, an MPH, and is near completion of her Ph.D. When not working as a public health professional or professor of biology, Marybeth can be found climbing the Adirondack High Peaks, writing odd things, or munching on eggplant bacon.