Feature
In Company with the Trinity
"We come to prayer as little children"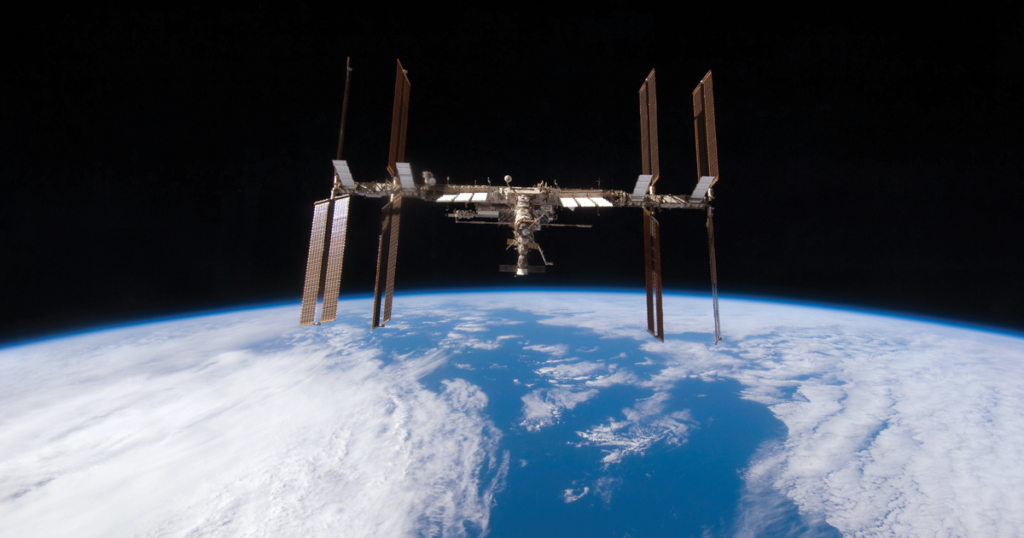 On the night of August 2, 2022, in southeast England a sleeping Isabella Payne was hurriedly awakened by her father. Matthew whisked the eight-year-old into his home office, set her on his knee, and held a mic in front of her.
Isabella, his ham radio sidekick since she was two years old, spoke with someone very special: Kjell Lindgren, NASA astronaut aboard the International Space Station (ISS).
Isabella's conversation with Lindgren lasted less than a minute. But the awestruck young girl later told BBC Breakfast, "It was very amazing to talk to an astronaut … I was thinking, 'Oh my goodness, oh my goodness, I'm talking to someone out of the earth's atmosphere!'"
Who knew the ISS, floating over 200 miles above Earth, had an amateur radio station on board and could chat with earthlings? Yet, outside of scheduled contacts with educational groups, it seldom happens. That's because so many factors have to align.
For one, the ISS must be passing overhead within the line of sight. Since the station is traveling over 17,000 miles per hour, ham operators only have a window of perhaps 10 minutes. In those brief moments, they have to catch an astronaut who happens to be off duty (they're unavailable during work hours) and on-air. So, it comes down to being in just the right place at just the right time. Even then, the conversation must be short so that others in the area can share the opportunity.
Still, it's got to be pretty heady stuff to talk one-on-one with someone in the ISS, knowing your very own voice is right there, joining in the conversation and taking a little part in the inner action of that orbiting wonder.
Think of it. Isabella will forever be able to say, "The ISS? Oh yes, I got to participate briefly in its mission in 2022!"
A Better Mission
But Isabella has nothing over any true believer in Jesus, over we who have trusted that Christ's death paid for our sins and have given our lives to Him. For us, the reality is far more mind-blowing than brief contact with the ISS. Greater, certainly, than I had realized, until my pastor, Dr. Scott Shuffield, voiced that reality in a recent sermon: "We get to participate in the inner life of the Trinity in the here and now."
When I heard those words I felt, like Isabella, that I was being awakened to something very amazing. I can participate in the inner life of the Trinity!
Included
The Bible teaches us that one God exists as three distinct Persons – the Father, the Son and the Holy Spirit – and reveals the Trinity's rich and deep inner life (see John chapters 14-17 in particular). Yet the astonishing reality is that we who belong to God, though small and unworthy, have been brought to stand in company with the Trinity – in spirit and in the here and now.
For Jesus told His disciples, "When I am raised to life again, you will know that I am in my Father, and you are in me, and I am in you" (John 14:20), and the apostle Paul wrote, "For you died to this life, and your real life is hidden with Christ in God" (Colossians 3:3). Even better, not only are we present in Him, we get to participate in the Trinity's inner life:
"Our fellowship [our koinonia, our intimate participation] is with the Father and with his Son, Jesus Christ."

(1 John 1:3)
"God … has invited you into partnership [koinonia] with his Son, Jesus Christ our Lord."

(1 Corinthians 1:9)
"May the … fellowship [koinonia] of the Holy Spirit be with you all."

(2 Corinthians 13:14)
Entering In
Exactly how can we participate in the koinonia of the Trinity?
The Word. As we read God's Word, we see and feel the heart of the Trinity. That's because we're reading God's diary. His journal. And by His Spirit, He's reading it into us. We're meditating on and responding to His thoughts and desires and plans.
Prayer. We come to prayer as little children among the towering Persons of the Godhead. As we pray to the Father, the Son and the Holy Spirit, we also present to Him our needs and requests: "We don't know what God wants us to pray for. But the Holy Spirit prays for us with groanings that cannot be expressed in words" (Romans 8:26); "Christ Jesus … is sitting in the place of honor at God's right hand, pleading for us" (Romans 8:34); and the Father hears and answers (Matthew 7:11).
Praise. The Spirit glorifies the Son (John 16:14), the Son glorifies the Father (John 17:4), the Father exalts the Son (Philippians 2:9) – and we're invited to join in! "Therefore, let us offer through Jesus a continual sacrifice of praise to God" (Hebrews 13:15).
Rest. By the Spirit of sonship, we cry, "Abba, Father" (Romans 8:15), and rest in the lap of the Father like the weaned child of Psalm 131. Instead of obsessing over things too lofty for us to grasp, we settle back into Him, gaze at the beauty of the Godhead, and ponder His power and excellence.
To do all this, we don't need an overhead line of sight; we don't have to be in just the right place at just the right time. We can enter the holy conversation of the Trinity anywhere and at any time, for as long as we want, in the here and now. For us, the impossible factors aligned at the cross.
This is Amazing!
What difference will it make if we read God's Word with hearts and minds truly awakened to the Father, the Son and the Holy Spirit? What if we pray and praise and rest in koinonia with the triune God?
Maybe instead of dozing in our prayer closets we'll be lifted, awake and alert, onto our Father's knee. Maybe rather than mindlessly mumbling routine requests we'll find ourselves eager to share in divine dialogue.
Maybe our response will be a bit more like Isabella's. For how soul-heady but heart-humbling to be able to think, each time we pray, "This is amazing! I am participating in the inner life of the Trinity!"
Sandy Mayle is a freelance writer who resides near Erie, PA.