Healthy Habits
Leave Your Regrets Behind
How can we learn from our regrets and move on?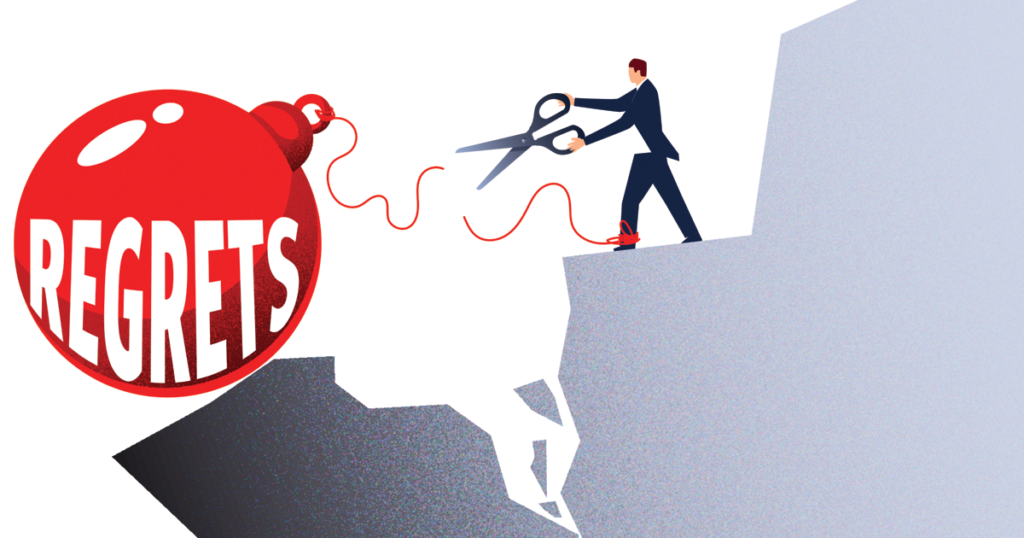 I came home from work recently and our dog was curled up comfortably on the couch. She lifted her head with a guilty look on her face and didn't seem surprised when I scolded her — "Get off the couch! You know better!" Of course, this isn't the first time it has happened, but generally it's a rare occasion. I have noticed she tends to creep up onto the couch when she is feeling anxious or lonely. I can understand and even empathize with her actions of seeking out comfort, even though she is consciously aware it goes against what she has been taught.
I try to be a good person; I work hard to try to improve myself and yet I often make poorly thought-out decisions. Sometimes I make the same mistakes repeatedly. Generally, they have something to do with what I call the "too much syndrome": worrying too much, spending too much, saying too much. Other times it's the "not enough syndrome": not exercising enough, not being careful enough, not getting enough sleep and so on. Not long ago I rushed through something that I should have taken my time on and double checked. But I didn't. It could have caused hurt to someone. Thankfully it didn't. But it could have.
My biggest regrets happen when I "know better." Seth Godin writes, "If regrets about yesterday's decisions and actions help you do better work today, then they've served a useful purpose." The problem comes when holding on to our regret keeps us from moving forward and striving to "do better." We care so much about wanting to do or say the "right thing," we become paralyzed with fear and become stuck in a cycle of self-blame.
I find when I'm stuck in a cycle of self-blame, it's usually because I am fixated in the moment of my regret. I'm replaying in my head difficult conversations where I wish I had said something other than what I said. I'm reliving the moment I chose to take the easy way because I was tired or greedy. I want to punish myself for being angry about something petty that doesn't matter in the long term but seemed to hurt my pride. I am frustrated that I got caught up in the advertisers' emotional pull and bought something I didn't need. I can hold onto these thoughts for days, or even weeks. The fixation crowds my brain so I can't focus on the day's tasks.
These thoughts and emotions are not wrong, as it is a good thing to reflect on your own actions. But we aren't meant to live carrying self-blame into perpetuity. Scientists tell us that fixating on our regrets over time can make our whole body physically sick. It increases our body's stress response and even affects our immune system.
We humans have been created by God with the capacity to learn from our regrets so we can avoid future poor decisions. As Christians, we are instructed to turn to God in these times and follow His guidance. God promises to forgive our selfish actions and decisions and He will also shower us with His love and heal us with His grace. God doesn't want our regrets to keep us from the abundant life that He has for us.
So, how can we learn from our regrets and move on?
1. Examine yourself to get to the root cause of your regret.
Rather than justify your actions, ask God to show you the fault within yourself that you cannot admit. Fact-check what really happened. Write down your thoughts. Draw a timeline, a diagram or a mind map. Go back to that moment and then list your emotions while it happened. Highlight key words and feelings. Name the offense behind the action.
Psalm 139:23-24 says, "Search me, God, and know my heart; test me and know my anxious thoughts. See if there is any offensive way in me, and lead me in the way everlasting" (NIV).
2. Be intentional in praying, asking and receiving forgiveness.
Charles Spurgeon tells us, "Humility is to make a right estimate of one's self." To be humble does not mean to have a low opinion of yourself, but rather to have an accurate opinion of yourself, and to acknowledge your humanness and your need for forgiveness. Praying with this attitude, we can open ourselves up to God's forgiveness and cleansing.
First John 1:8-9 says, "If we claim to be without sin, we deceive ourselves and the truth is not in us. If we confess our sins, he is faithful and just and will forgive us our sins and purify us from all unrighteousness" (NIV).
3. Stop fixating on what happened and instead fixate on the faithfulness of God.
When upsetting or unwanted thoughts become obsessive, it clouds your judgment for handling the day's new challenges. There is no easy "off" button, but struggling against obsessive thoughts can make them stronger. God is faithful to deliver you!
Isaiah 43:18-19 says, "Forget the former things; do not dwell on the past. See, I am doing a new thing! Now it springs up; do you not perceive it? I am making a way in the wilderness and streams in the wasteland" (NIV).
4. Make a plan to do better next time.
If a similar situation happens in the future, how will you change your response?
A famous quote says, "Our reaction to a situation literally has the power to change the situation itself."
Many times, our regrets stem from situations in which we feel a sense of unease. Re-training ourselves to pause, breathe deeply, and to ask for the Holy Spirit's guidance in the midst of difficult conversations or making important decisions will always achieve a more successful outcome. Slow down your reaction and give yourself time to think clearly.
In a psalm of David, after a time of regret, he asked God for His help to change his impulsive reactions. He writes: "Create in me a pure heart, O God, and renew a steadfast spirit within me" (Psalm 51:10 NIV).
5. Fix your mind on moving forward with God's grace and wisdom for your next step in the journey He has for you.
Philippians 4:8-9 says: "And now, dear brothers and sisters, one final thing. Fix your thoughts on what is true, and honorable, and right, and pure, and lovely, and admirable. Think about things that are excellent and worthy of praise. Keep putting into practice all you learned and received from me—everything you heard from me and saw me doing. Then the God of peace will be with you."
When regrets fill your mind, you are not allowing room for God's peace and forgiveness. My dog, who happens to be a rescue, still curls up on the couch once in a while seeking security, but she is beginning to be calmer and accept the fact that we haven't abandoned her.
I still tend to either do too much or not enough of things occasionally. But I have found much relief in this pattern of examination, prayer, fixating on God's faithfulness rather than whatever happened, making a plan to do better, and moving forward with God's grace and mercy.