Frontlines
Q&A with Candace Cameron Bure
Candace Cameron Bure is joining forces with The Salvation Army for a third year and helping rescue Christmas for millions in need.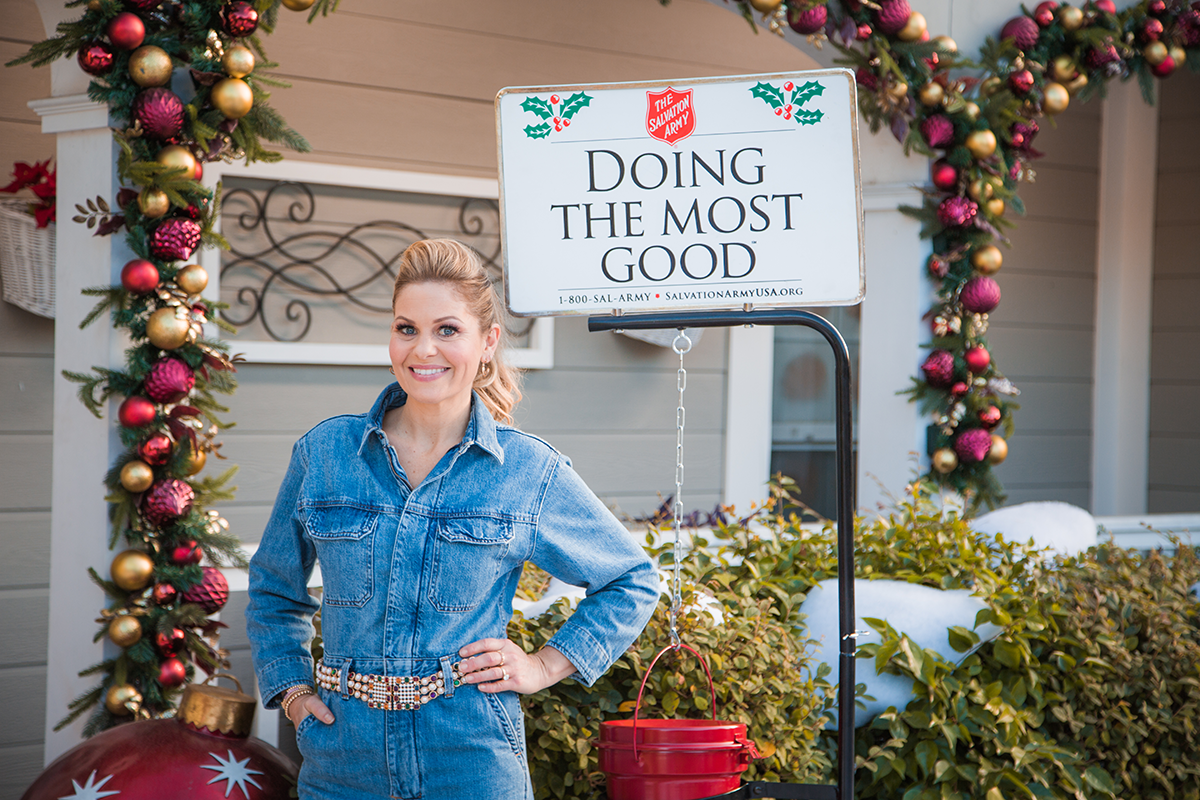 Actress, executive producer and New York Times best-selling author Candace Cameron Bure is joining forces with The Salvation Army for a third year and helping rescue Christmas for millions in need. She recently spoke with the Norwegian War Cry about what it means to be a celebrity ambassador.
How did you get involved as a celebrity ambassador for The Salvation Army?
I grew up knowing what a wonderful organization The Salvation Army is and have contributed in various ways over the years. I was really excited when The Salvation Army asked me to be a celebrity ambassador because I have been a lifelong supporter. It was an immediate and easy yes!

What do you do as an ambassador?
I get to share about The Salvation Army on my social media platforms and other media outlets. I love to inform people of the good work that The Salvation Army does, and I aim to put a spotlight on why it is important and how to get involved. I have also had the opportunity to visit several of The Salvation Army locations across the country. It was a great experience to personally see the work they do at The Bell Shelter culinary school and farm where I learned about the farm-to-table and culinary training program. I even got hands-on in the garden and kitchen! I also visited their Westwood Transitional Village as well as the L.A. Red Shield Youth and Community Center where I got to interact with the kids by doing arts and crafts, playing music, basketball, and more. I saw firsthand the wonderful work that The Salvation Army is doing to better the futures of every child that comes through the doors. As much as I got to experience, I know that was just scraping the surface of all that The Salvation Army does.
This is your third year. What made you want to continue?
I have not only seen firsthand the good work The Salvation Army does, but I believe in it! I want to continue doing that good work alongside them.
Do you feel people in general are really aware of how much The Salvation Army help communities?
I DON'T! Even though I have been a longtime supporter, I had no idea the scope of what they do. I knew The Salvation Army helped those in need tremendously, but I thought it was more limited to providing meals and shelter. I did not realize that they also provide so many tools and resources for healing from recovery programs to job training, spiritual and emotional care, counseling, and even day care for children. The more I learned, the more I was encouraged to get involved and to share with others.
Have you yourself stood by (served) a red kettle during the Christmas season?
Although I have always been involved by dropping money in the red kettles I have never been the sole person in my community to serve at one. However, through my partnership with The Salvation Army I have gotten to stand alongside the red kettles for significant amounts of time. It is always so rewarding and encouraging every time someone drops in a donation!
How did you come to faith in Christ? How does your faith influence your life and your career?
I became a Christian at 12 years old when my mom and dad first took our family to church. They were considering a divorce at the time and their friends invited our family in hopes of helping their broken marriage. Although I gave my life to Christ at church that very year, it wasn't until I was about 25 years old that I truly understood my need for Jesus and sought out a relationship with God for myself. I came to that realization all because God had been nudging my heart as a mother. I felt that after having our three children I needed to start reading the bible to know what I wanted to teach them about God. But I didn't really know I what I believed myself let alone what the Bible actually said. I mean, I believed it in God and that I was saved, but I never poured into knowing who God is, studying the bible or having a relationship with Him. My brother Kirk then gave me a book by Ray Comfort called "The Way of the Master." It had the most impact on helping me understand that I was a sinner in need of God's grace. I always thought that because I was a good person, salvation from Jesus was only added protection but that I going to heaven based on my good deeds. After digging into God's word, I recognized my ignorance. Salvation come from ONLY through Jesus, God's gift of grace to all mankind. And through gratitude, I want to live my life for Him.
How does your faith influence your life and your career?
My faith is the foundation of who I am. It is the compass by which I make all of my decisions in my life and career. My faith in Christ is not something I leave at the door when I go to work and only put on at home. It goes with me everywhere.
What lies ahead for you in the coming year?
Moving into 2021, my third children's book, "Candace's Playful Puppy," will be released in January, and I will of course be filming more Aurora Teagarden Mystery movies for all of you Hallmark Movies and Mystery lovers. I also will continue releasing items in my product line with Dayspring including t-shirts, home décor, devotionals, calendars, seasonal items, books and so much more!
This magazine will be sent not only to ordinary people, but community, business, and political leaders. What would you like to say to them, concerning The Salvation Army?
Thank you for your support for The Salvation Army. When you support The Salvation Army you are helping people and their families not only physically but mentally and spiritually. I believe true healing for all of us and within our country comes from spiritual healing. My hope and my prayers are that we will all understand the importance of our spiritual lives and that there is power in prayer. Let's all continue to help those in our community who are in need by supporting such a powerful organization like The Salvation Army.
This interview was originally published by the Norwegian War Cry.