Try This
Recipe: Brazilian Chicken Salad
Prep time: 20 minutes | Cook time: 20 minutes | Serves: 4-6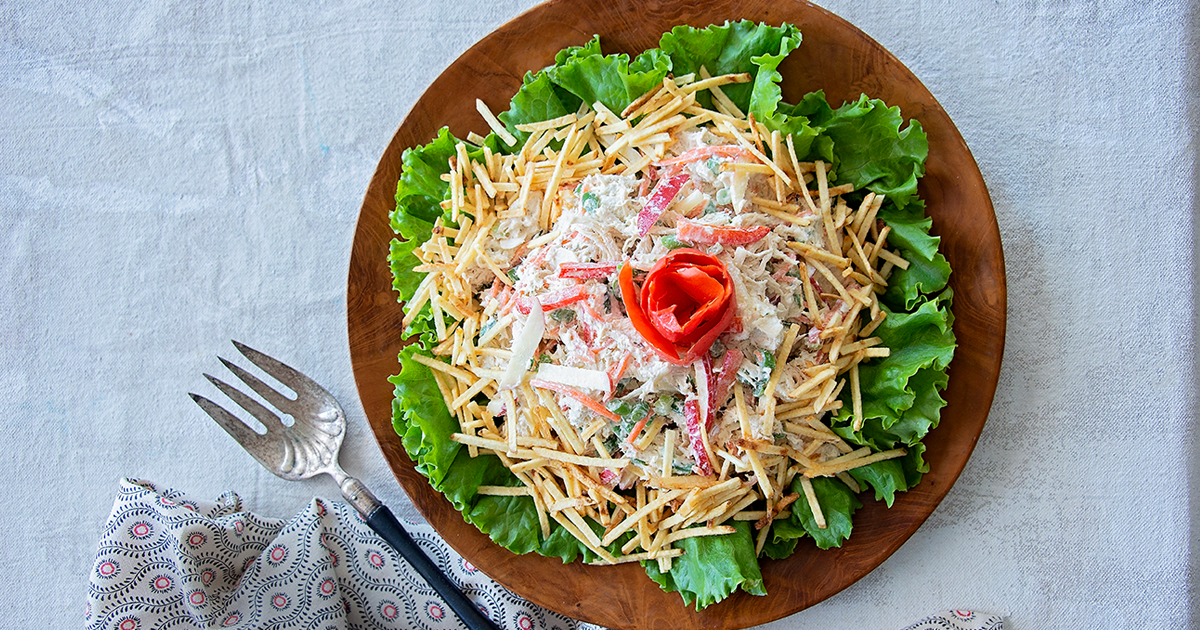 The dinner table wasn't just a place for us to share our own stories; it was also a place where we were thought to think about then eds of others. Along with thanking God for our meal, we'd often pray for people we knew were hurting and then through conversation, we kids would hear about the ways our parents were helping in those situations. All of those things and more were shared while eating together. In the subtlest ways, our mealtimes nourished our souls as much as our bodies.
Ingredients
3 chicken breasts, shredded (or use store-bought roasted chicken)
2 tablespoons extra virgin olive oil
2 gloves garlic, minced
1 medium onion, diced
Salt and pepper to taste
2 tablespoons parsley, finely chopped
2 tablespoons chives, chopped
1 medium apple, julienned
1 pound carrots, julienned
½ cup celery, finely julienned
½ cup orange or red bell pepper, blanched
1 cup Duke's Mayonnaise (or your favorite mayonnaise)
1 ½ cups sour cream
1 large can shoestring potatoes
Directions
In a large pot over medium heat, brown chicken breasts in extra virgin olive oil, about 10 minutes per side. Add the garlic and onion, and sauté for another minute. Add salt and pepper, to taste. Once the chicken is cooked, let it cool and then shred the meat.
In a large bowl, combine the chicken with the remaining herbs and vegetables. Add the mayonnaise and sour cream and toss the salad until well coated. Serve child with shoestring potatoes on the side.
Recommendation
This is a crisp and savory chicken salad, known as Salpicão de Frango in Brazil, served with crunchy shoestring potatoes. It's a great way to enjoy a plateful of colorful vegetables! Buy a roasted chicken from your local grocer to save time, and add the shoestring potatoes right at the end to make sure they don't lose their crunch.
—
Excerpted with permission from "A Place at the Table" by Kelly Minter. Copyright 2019, B&H Publishing Group.