Frontlines
Adaptive Retreat
West Holds First Retreat For Young Adults With Disabilities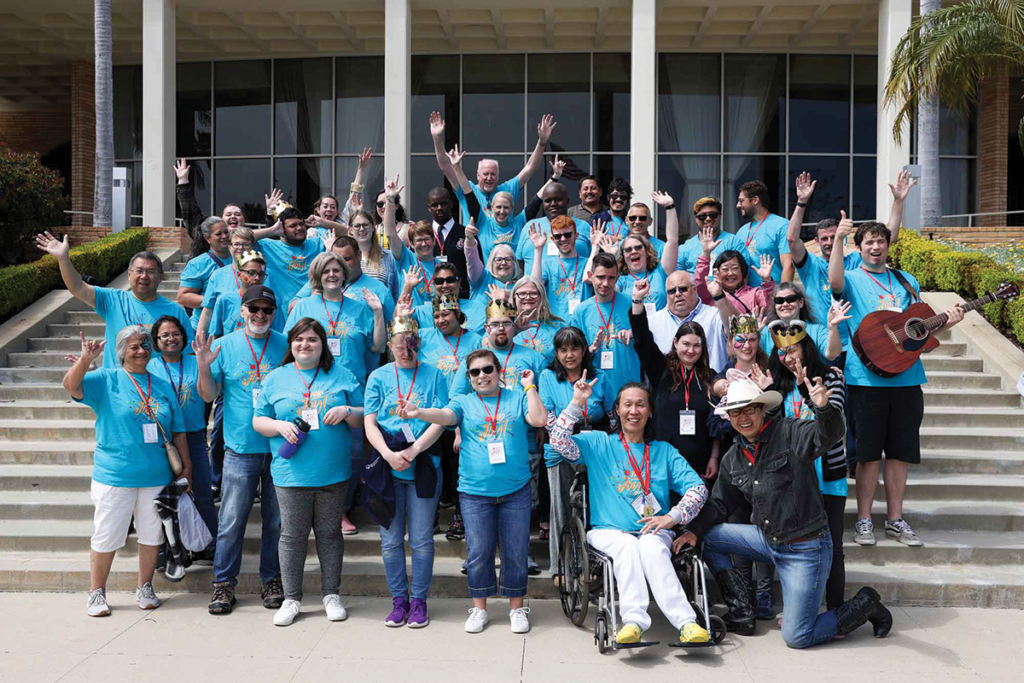 Colors and shouts filled the chapel on the Western Territory's Crestmont Campus in Rancho Palos Verdes, CA, as a group of about 60 individuals joined in worship. Coming from as close as down the street to as far as Brooklyn, NY, attendees used egg shakers, ribbons and colored scarves to fuel the celebration.
The gathering marked the beginning of the inaugural Adaptive Retreat, a weekend specifically designed for young adults with disabilities and their chaperones to provide a space for all to feel welcome. Territorial Disabilities Ministries Director and Spiritual Formation Resource Officer Major Nancy Helms organized the weekend to not only include but also celebrate those who are sometimes pushed to the sidelines.
"It was exciting to plan and implement this necessary gathering," she said. "It was the first time the Western Territory has provided a retreat specifically for young adults with varied cognitive, neurological and physical needs, where they were welcomed and belonged to something their typical peers experience regularly." 
The weekend was filled with activities aimed for attendees to experience joy. On Friday night, delegates sang campfire songs and roasted marshmallows, faces lit by a toasty fire pit. On Saturday morning, each attendee received an award for participation in a field day—accompanied by a shaved ice truck, face painting and yard games. Saturday night, the campus terrace room was transformed into a movie premiere, where individuals were interviewed by the "paparazzi" and participated in dancing and karaoke.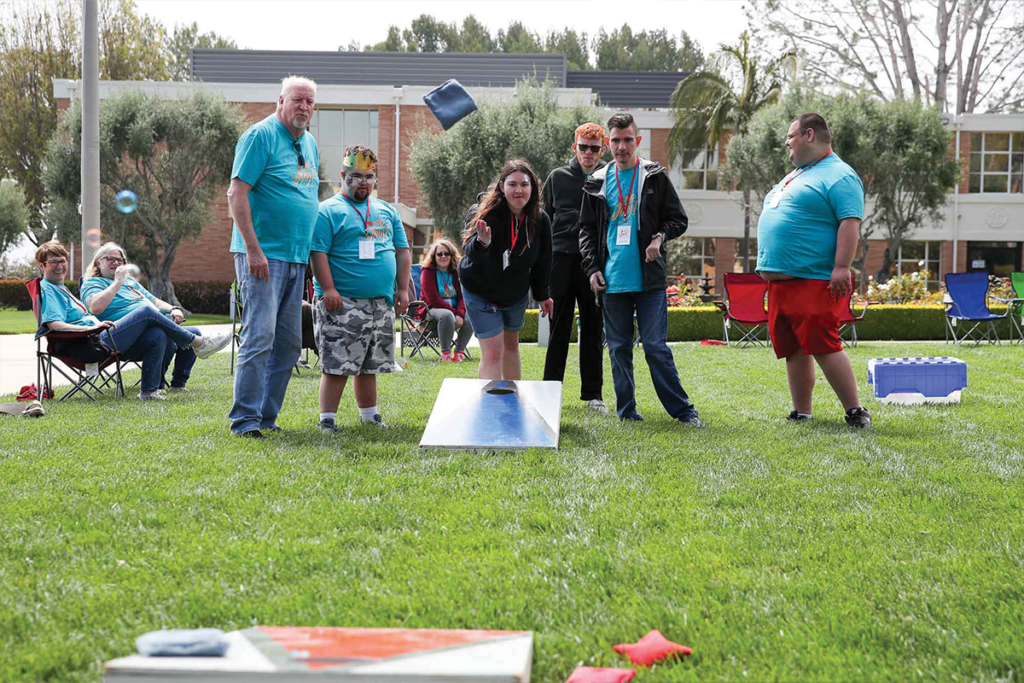 Rachelle Wigen, who has volunteered in the Anacortes, WA corps food bank for 10 years, participated in the retreat along with her mother. She said the best part of the weekend was meeting new people and "getting dressed up in a ball gown for the dance where I was treated like a celebrity — I got to walk down the red carpet." Also from the Anacortes corps, attendee Sonja Erlandson said her favorite part was the dance and karaoke. "I like to sing about Jesus and make new friends," she said. "Everybody was so kind to me. I hope I get to come next year, too."
Erlandson was invited to the weekend by her corps officer, Lt. Shane Ingram, who made all of the arrangements for her and her friend Rachelle to attend, said Donna Erlandson, Sonja's mother. 
"The Adaptive Retreat at Crestmont was a time of renewal for Sonja's faith," Donna Erlandson said. "She commented on how special she felt during her time there. The Salvation Army has been and continues to be a blessing to our family in times of need, and in celebration."
In the planning process, Helms highlighted a desire for unique and exciting activities, especially because many attendees never had the opportunity to experience them before. The delegates from New York, who had never been outside of the state, even got to experience Universal Studios, thanks to their corps officer.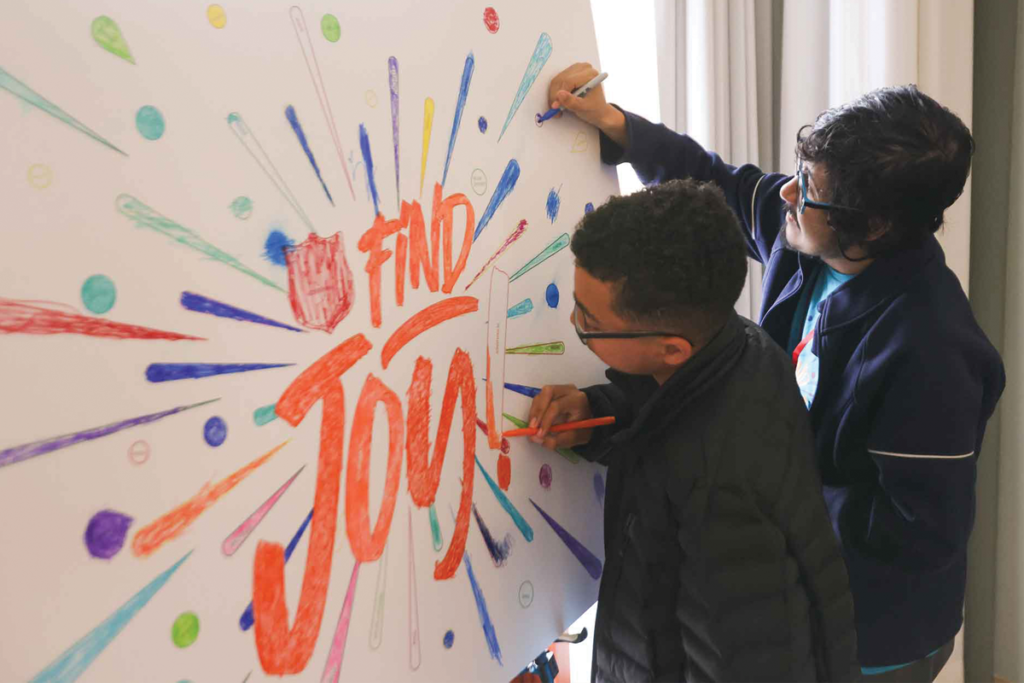 In addition to the fun-filled activities, the weekend considered its theme, "Find Joy," and its meaning in a Christian context. Salvation Army cadets led three worship services throughout the retreat, using the letters from the word "joy" to represent Jesus first (J), others second (O) and yourself last (Y). The cadets used skits, object lessons and games to convey the messages. Additionally, the retreat created spaces for accessibility by providing earplugs, fidget toys and a calm space for escape.
CFOT cadets and staff led worship accompanied by two delegates, who joined with guitar and cajÓn. In each song, the audience brought passion and dancing. One delegate was asked to join on stage to share the lyrics in American Sign Language (ASL).
"At every opportunity, cadets and officers were available for assistance or just to share a smile and a kind word," said Donna Erlandson. "The genuine feeling of God's love was truly present."
In the final worship session on Sunday morning, Helms emphasized how the church often allows for architectural style to become more valuable than the assurance of belonging for the people in attendance. While many may feel accessibility and creating a space for individuals with disabilities to belong is difficult, it's clear through Scripture that it's a commandment.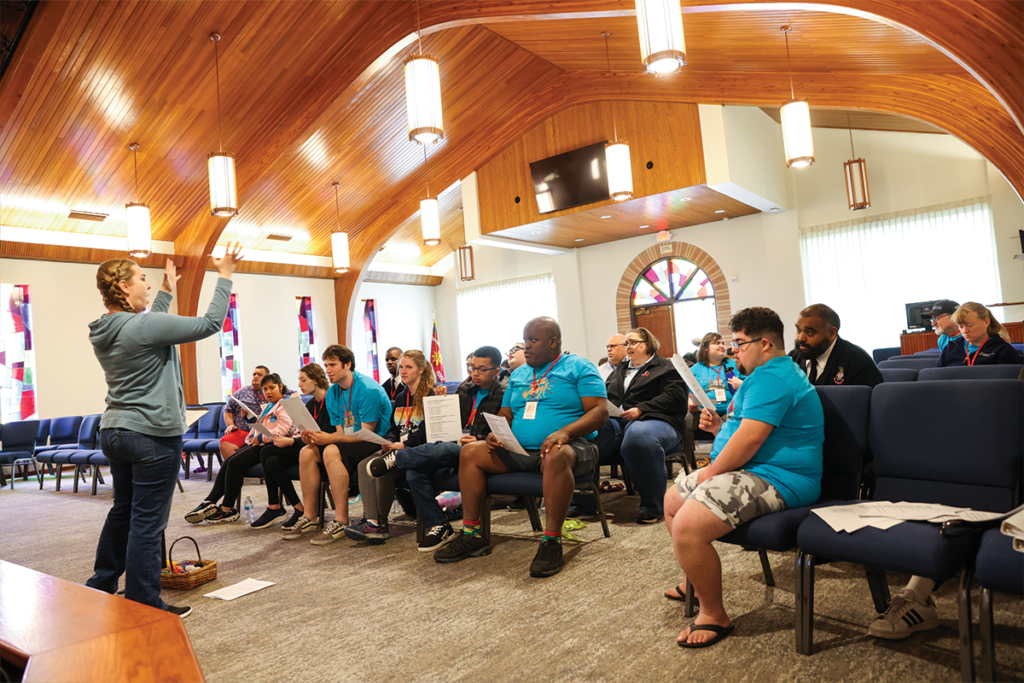 Helms said that Jesus calls Christians to live a life of love, which means putting others above yourself. Making the church accessible is essential to the mission of a Christian. Finding ways to love all people, including those with differences in ability, is a requirement. Change, while uncomfortable, is essential for growth. The church must look at its current state and critique its understanding of an "invitation to all." When the term "all" is used, is it true?
"We hope and pray the retreat was a catalyst for change in The Salvation Army, and that more and more opportunities become available for individuals with varied disabilities to find a place where they can thrive and belong," said Helms. She noted that not only should the church want those in its congregations to feel welcome, but there should be a desire for discipleship and growth. This does not change when the attendee has physical, cognitive or neurological differences.
Many who attended or supported this event left with a full heart and desire for change. The hope is to see a church with the heart of Jesus, finding ways to highlight and value everyone. Austin Hursh, a delegate from the Northwest Division, put it best when he shared in the final session, "Why haven't we been doing this my whole life?"