Frontlines
Do the Mission
Preach the Gospel of Jesus Christ and meet human needs in His name without discrimination.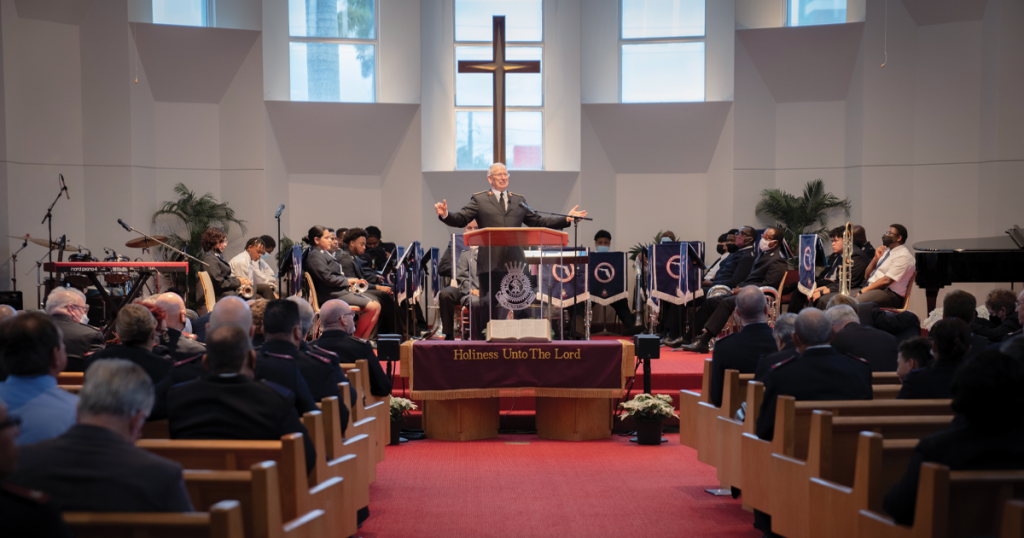 That line from our mission statement is who we are as Salvationists, what drives us as we minister to a hurting humanity. This mission served as the underlying theme for General Brian Peddle's recent historic trip to south Florida, as he met with soldiers, officers and friends of the Army.
The visit started off with exuberance, as the international leadership team, made up of Commissioners Lyndon and Bronwyn Buckingham, who serve as the Chief of the Staff and World Secretary for Spiritual Life Development respectively, and Commissioners Edward and Shelley Hill, International Secretary for the Americas and Caribbean and Zonal Secretary Women's Ministries for the Americas and Caribbean, supported by the territorial commanders from each territory in the US, met at the Fort Lauderdale Adult Rehabilitation Center to worship with residents. This ARC center is a thriving program, with nearly 100 men working through rehabilitation. During this lively and praise filled service, Commissioner Lyndon Buckingham preached on the transformation of Zacchaeus and encouraged listeners to find themselves in the story.
Following this time of ministry at the ARC, area corps, which included officers and soldiers of every corps in the Fort Lauderdale, Miami, and Palm Beach Area Commands, gathered as one body for worship together on a Sunday morning. Hundreds gathered to celebrate with General Peddle, along with Commissioner Rosalie Peddle, World President of Women's Ministries, Commissioners Buckingham, and Commissioners Hill. Joining the International Leadership team was leadership from National Headquarters, including National Commander, Commissioner Kenneth Hodder, National Secretary for Program, Commissioner Jolene Hodder, and Colonels Ken and Paula Johnson, who serve as the National Chief Secretary and National Secretary for Personnel. They were supported by the territorial commanders and chief secretaries from each territory in the United States.
Worship began with an incredible dance to Lauren Daigle's "Rescue," whose lyrics speak of an army, sent by the Lord into the darkest night, to rescue those who are lost and in need of hope. As guests were welcomed and introduced, those present were reminded by Commissioner Lyndon Buckingham that the reason for the gathering was not those gathered there, but the "Greatest Guest," who will do immeasurably more among His people.
A moving time of prayer was led by area soldiers in Creole, Spanish, and English, highlighting the cultures that dominate the region, followed by Commissioner Rosalie Peddle, who gave her testimony, in which she shared that the words from "Goodness of God" summed up her life's experience: "All my life, You have been faithful. All my life, You have been so, so good." Commissioner Peddle shared that while these last years have been traumatic and difficult for us all, she firmly believes that, looking across the globe from her ministry at International Headquarters, "God still has the whole world in His hands!"
The highlight of this service was the Soldier's Enrollment, in which the General enrolled 20 Senior Soldiers and 8 Junior Soldiers from the area corps. The General challenged the new soldiers to follow the Soldier's Covenant and Junior Soldier Promise, reminding them of their covenant with the Lord. Commissioner Bronwyn Buckingham prayed over these newest soldiers of The Salvation Army, dedicating them in service to the Lord.
The General gave his challenge to all gathered there to live out the mission of the Army, by asking the question from Isaiah 6: "Whom shall I send? And who will go for us?" "The Salvation Army must listen to God's call and answer, 'Send me.' Send me to my neighbor. Send me to my casual acquaintances. Send me to my co-workers. Send me to the family nearby. Send me, if God wills, to the training college. Send me to the ends of the earth if that is what He wants." General Peddle urged us to examine our own holiness, because the only way to carry out this mission effectively is to live a holy life. It is this holy living that will draw others in and facilitate the sharing of hope found in Christ.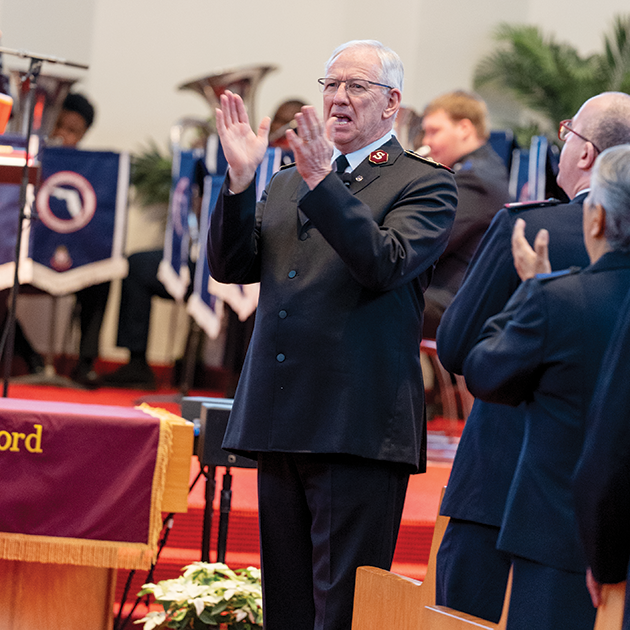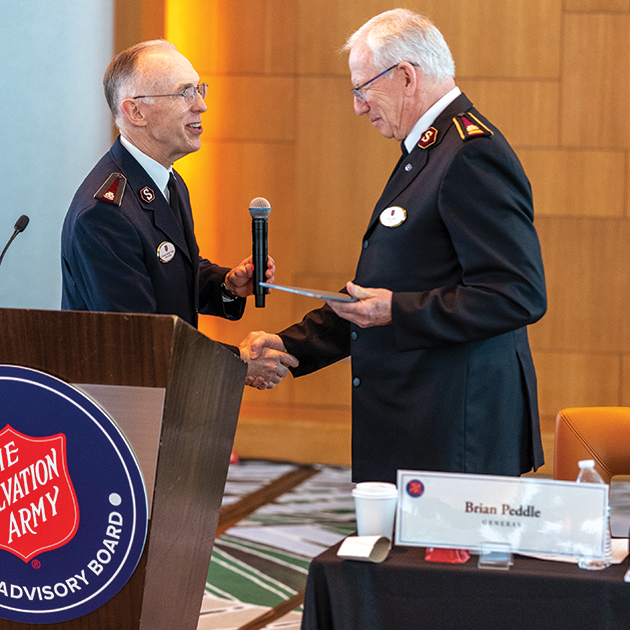 After a time of reflection, the meeting closed with that rousing anthem, "Storm the Forts of Darkness," which led perfectly from the declaration of response to the earlier question: "Whom shall I send? And who will go for us?" "Send me!" Send Your Army into those forts of darkness to, as the song says, "pull down the devil's kingdom, where'er he holds dominion, to bring the forts of darkness down!"
The visit could have ended after this powerful time of worship, but there was more to come! For the first time in history, the International, National, and Territorial leadership teams met together for a Leadership Summit. During this two-day summit, these leaders met together to seek God's face and His vision for The Salvation Army in the US.
Following this summit, the General and Commissioner Peddle and Commissioners Hill met with the National Advisory Board at their triannual board meeting. Speaking to the board members, General Peddle, along with the National Commander, Commissioner Kenneth Hodder, shared both the challenges and opportunities facing the Army here in the US. The National Advisory Board members had the opportunity to respond with questions, which were underlined by the notion that they know who The Salvation Army is, know what we stand for, and are steadfast in their commitment to support the Army as it marches forward in mission.
On their final day in Florida, Commissioner Rosalie Peddle shared a devotion, in which she explained that her theme for 2022 comes from the lyrics from the song "Oceans," "Trust without borders." She encouraged those gathered to step into the unknown and focus their eyes on Jesus, taking courage in troubled waters and relinquishing control to Him. She closed this time with the Fourfold Franciscan Blessing:
May you be blessed with discomfort

at easy answers, half-truths, and superficial relationships,

so that you may live deep within your heart.

May you be blessed with anger

at injustice, oppression and exploitation of people,

so that you may work for justice, freedom, and peace.

May you be blessed with tears to shed

for those who suffer from pain, rejection, starvation, and war,

so that you may reach out your hand to comfort them, and to turn their pain into joy.

May you be blessed with enough foolishness

to believe that you can make a difference in this world

so that you can do what others claim cannot be done.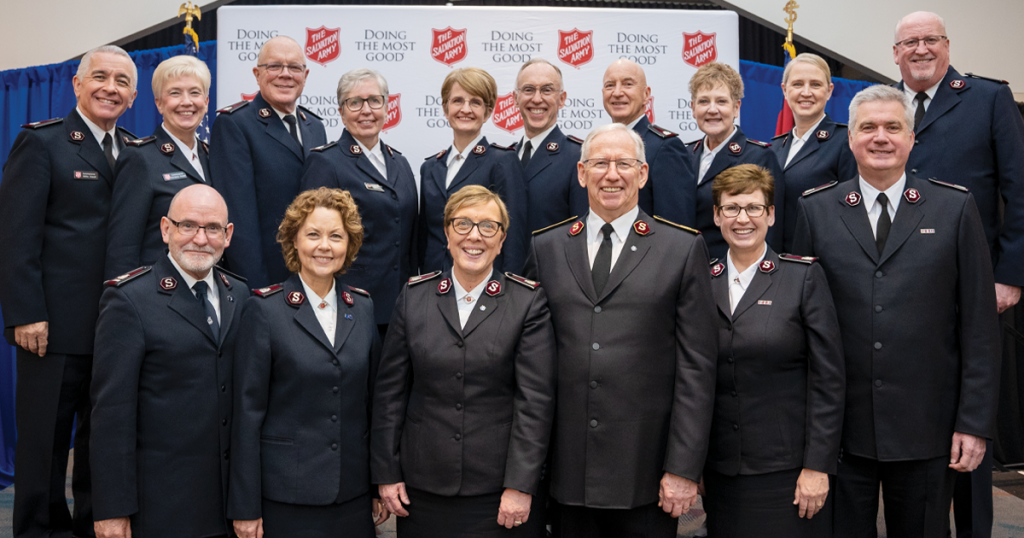 General Peddle then gave his final address, a state of The Salvation Army across the globe. He shared that the Army now has 1.3 million soldiers worldwide. Of these 1.3 million soldiers, 47% reside in Africa, 30% in South Asia, 10% in the Americas, 10% in the South Pacific/Eastern Asia zone, and 3% in Europe. Tragically, 120 active officers and thousands of soldiers were lost to COVID-19. The Army has persevered through this pandemic, serving on the frontlines by feeding, running COVID-19 hospitals, hosting vaccination clinics, educating more than a million children through Army run schools, and so much more. Despite the challenges facing the Army during COVID, over 47,000 soldiers were enrolled in the last year. Among the challenges shared, he also spoke of opportunity, of how the Army can go into difficult places and is trusted to do that mission: to meet human need in His name without discrimination.
Photos by Timothy Allen & Jon Avery