Frontlines
Kettle Campaign Benefits Millions
The Dallas Cowboys help spur the generosity of the American public to raise support for those in need.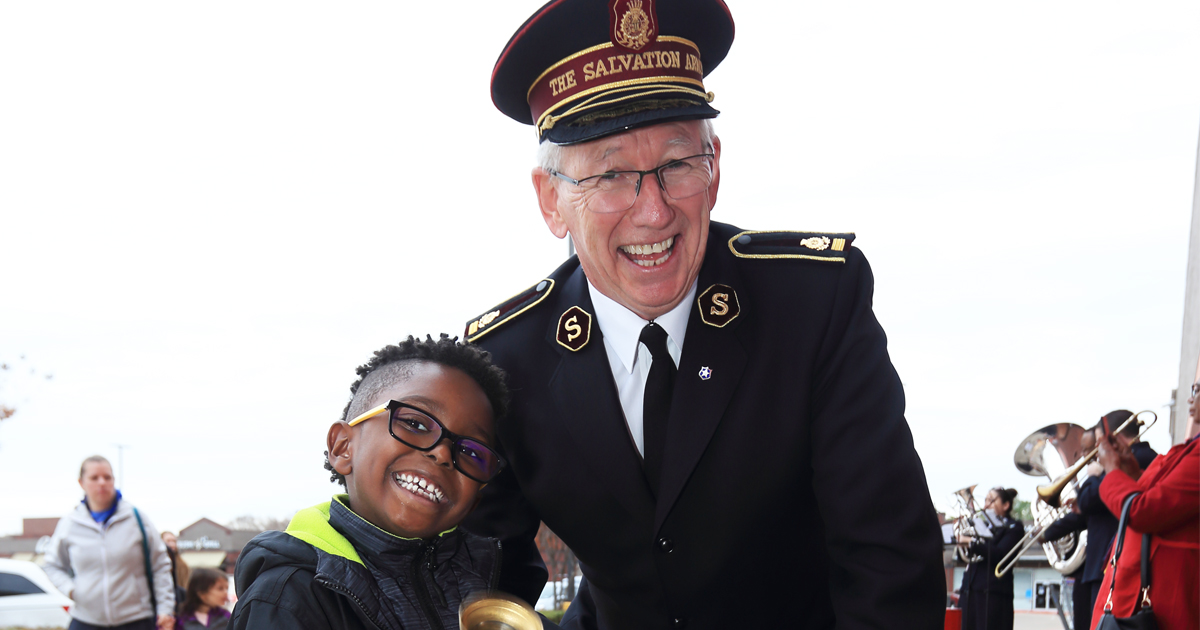 The Army's 129th annual Red Kettle Campaign began the season of giving and invited people to join the Fight for Good all year long to help the nearly 40 million Americans experiencing poverty, loss due to natural disasters or personal trials. The iconic campaign kicked off at AT&T Stadium with a special live nationally televised halftime performance during the Dallas Cowboys Thanksgiving Day game against the Buffalo Bills.
"Fight for Good" served as the official theme of the 2019 Red Kettle Campaign. It encouraged supporters to join the Fight for Good with donations in Red Kettles and online and to consider making recurring monthly contributions for significant, sustained impact.
"We've had the honor of hosting this kickoff for 23 years now, and each year, we are humbled to know the great impact The Salvation Army will make in the lives of millions of Americans throughout the year," said Charlotte Jones, executive vice president and chief brand officer for the Cowboys and former National Advisory Board chairperson for The Salvation Army.
The campaign officially began with Grammy Award-nominated and multiplatinum singer-songwriter Ellie Goulding's high-energy performance and the ceremonial Red Kettle donation from the Gene and Jerry Jones family.
The Jones family highlighted the new option to use Apple Pay or Google Pay at participating Red Kettles nationwide by bumping their smart phones to make a contribution during the traditional "coin drop."
Since teaming up in 1997, The Salvation Army and the Cowboys have collaborated to raise nearly $2.5 billion for the Red Kettle campaign, which provides America's most vulnerable with food, shelter and other support throughout the year. The proceeds will touch the lives of more than 30 million individuals in the year ahead.
General Brian Peddle, international leader of The Salvation Army, was in attendance for the first time. He visited Dallas from the Army's global headquarters in London as part of a firsthand look at programs and services in the USA funded by the Red Kettle campaign, which is one of the oldest and largest charitable initiatives in the world.
"Thanks to the support of The Salvation Army International Headquarters, the Dallas Cowboys, Ellie Goulding and those joining us in the Fight for Good, today we are able to shine a light on the crucial issues facing our neighbors most in need," said Lt. Col. Ward Matthews, national spokesperson for The Salvation Army. "It is our mission to fight all year long for the nearly 40 million Americans in poverty."
Ways to take part in the sustained campaign:
• Use the Amazon Echo to donate by saying, "Alexa, donate to The Salvation Army," then specify the amount.
• Sign up to give a monthly donation to help The Salvation Army year-round.