Q&A
Q&A with Scott Bedio
After nearly 30 years of service at National Headquarters, Scott Bedio has recently answered God's call to a new adventure in Texas. Scott and his wife Sandy now serve as administrators, leading the mission and ministry at the Georgetown Service Center in Texas.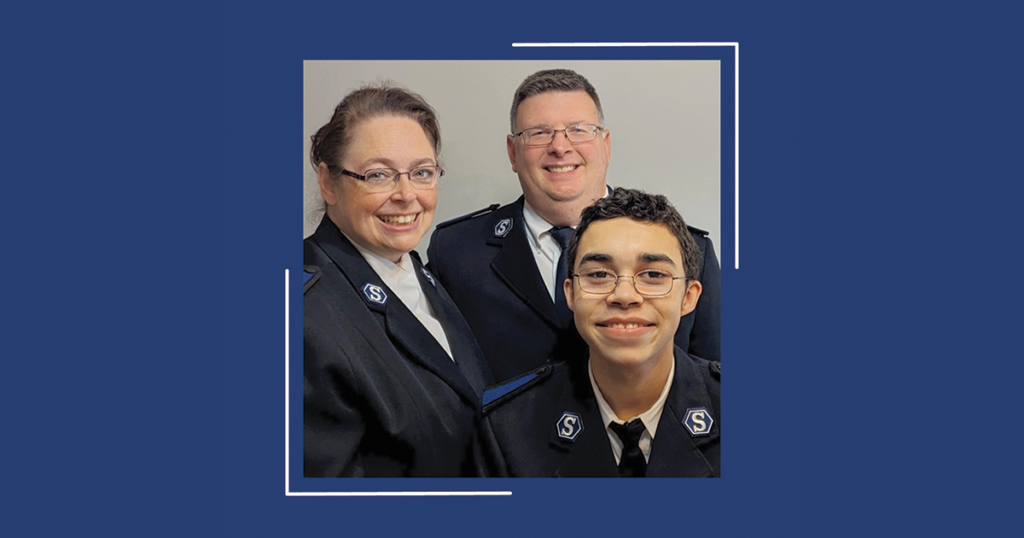 01. How did you first get involved with The Salvation Army?
I was born and raised in The Salvation Army. Growing up, I attended the Alexandria Citadel corps, where my dad served as the Assistant Corps Sergeant Major and my mom was Home League Secretary.
02. What is your favorite program or event in The Salvation Army?
The Corps Cadet program because of its emphasis on Bible study, leadership training, Salvation Army history and practical ministries.
03. How has your faith affected your work in the Army?
My relationship with Jesus Christ has given me the faith and confidence needed to be effective in ministry. When God calls, God equips! I claim the scripture found in Isaiah 41:10, "So do not fear, for I am with you; do not be dismayed, for I am your God. I will strengthen you and help you; I will uphold you with my righteous right hand" (NIV).
04. How has God led you to accept your new ministry opportunity?
For the last 32 years, my wife and I had the privilege of serving God at first Fairfax and later Alexandria corps in Virginia. It became clear in November 2022 that things were going to change in our shared ministry. Our prayers immediately focused on God's will in our lives. Little did we know how much things were going to change! Before traveling to Texas for Christmas to visit family, Sandy and I decided that it was time to make a move to Texas. One thing led to another, and a call came with an interesting opportunity of ministry for both Sandy and me in Georgetown, Texas. We said yes to the call!
05. What part of your work at NHQ are you most proud of? Something that's been meaningful to you in your service at NHQ?
My 16 years in the Archives Department and 12 years in the Resource Center have been absolutely amazing! I am grateful to Susan Mitchem, who taught me so much. I have had the pleasure of working with a highly skilled and phenomenal team in the Resource Center. This has been an incredible journey.
06. Who inspires you and why?
My wife Sandy is my stability and support. We have a shared ministry and heart for young people and youth programs. My mom and dad had a great impact on my life. With the three of us there was a beautiful blend of family time and ministry. Also, my high school band director, Dr. Stan Schoonover, challenged me to be a disciplined student and musician.
07. How do you spend time connecting with God?
By reading the Bible and through daily prayer. It is important to read God's Word daily. I use the Our Daily Bread devotional app. In addition to a daily devotional and Scripture, the app can take you through the Bible in a year. It is an excellent resource for connecting with God. However, prayer is essential in maintaining a strong relationship with God.
08. What is your definition of ministry and how was it formed?
Ministry is answering God's call to give of ourselves to bless others. It is formed by the calling that God places on our heart to be of service to Him. 2 Corinthians 4:1 tells us, "Therefore, since through God's mercy we have this ministry, we do not lose heart" (NIV). Ministry is action!
09. What do you do to unwind from a busy day?
I enjoy reading historical non-fiction. I am currently reading Doris Kearns Goodwin's "Leadership In Turbulent Times." The book is a study on the leadership qualities of four presidents—Abraham Lincoln, Theodore Roosevelt, Franklin D. Roosevelt and Lyndon B. Johnson. It is a fascinating read.
10. What do you most look forward to in your new ministry?
People. It's not about projects, tasks and stats—it's about people! Meeting people's needs at their point of most need. An opportunity to be the hands and feet of Christ and walk alongside others in their faith to bring us closer in relationship with the Lord is what I look forward to the most.