Try This
Recipe: Beet & Ricotta Hummus
"If you feel like mixing things up, swap in plain Greek yogurt or even a soft goat cheese for the ricotta" (Bon Appétit).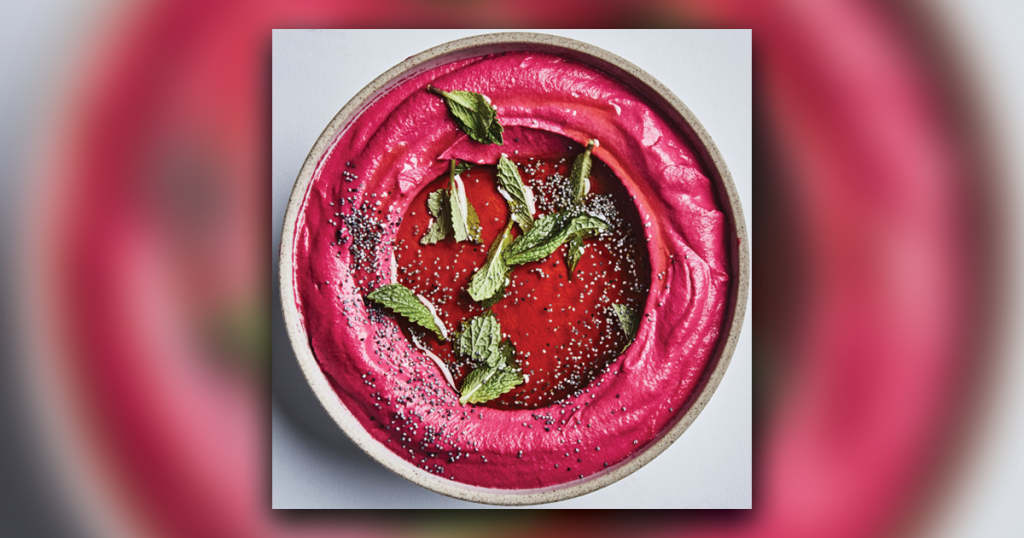 Ingredients:

1 baseball-sized red beet (about 6 ounces), scrubbed
1 15½-ounce can chickpeas, rinsed, drained
1/3 cup tahini, well mixed
¼ cup fresh lemon juice
¼ cup ricotta
1 garlic clove, finely grated or smashed to a paste with flat side of knife on cutting board
1 teaspoon (or more) kosher salt
10 cranks freshly ground black pepper
¼ teaspoon ground coriander
Mint leaves, poppy seeds, and olive oil (for serving)
instructions
Preheat oven to 425°. Wrap beet tightly in foil and place on a foil-lined rimmed baking sheet. Roast until the tines of a fork slide easily into the center of beet, 60–70 minutes. Let sit until cool enough to handle.
Meanwhile, process chickpeas, tahini, lemon juice, ricotta, garlic, salt, pepper, and coriander in a food processor until smooth.
Using a paper towel, rub beet to remove skin (it should slip off easily and any staining to your hands will be temporary). Trim root end and cut beet into 8 pieces; add to food processor. Process until mixture is smooth, about
2 minutes. Taste and season with salt, if needed.
Transfer hummus to a shallow bowl. Top with mint and poppy seeds and drizzle with oil. Enjoy!
Reprint: This recipe originally appeared on BonAppetit.com, written by Claire Saffitz. Photo By Alex Lau, Styling By Sue Li. To read more visit https://bit.ly/3gE82fD.