Try This
Recipe: Ramp Fritters
"These crispy little fritters taste like a three-way cross between onion tempura, blooming onion, and onion rings (Bon Appétit)."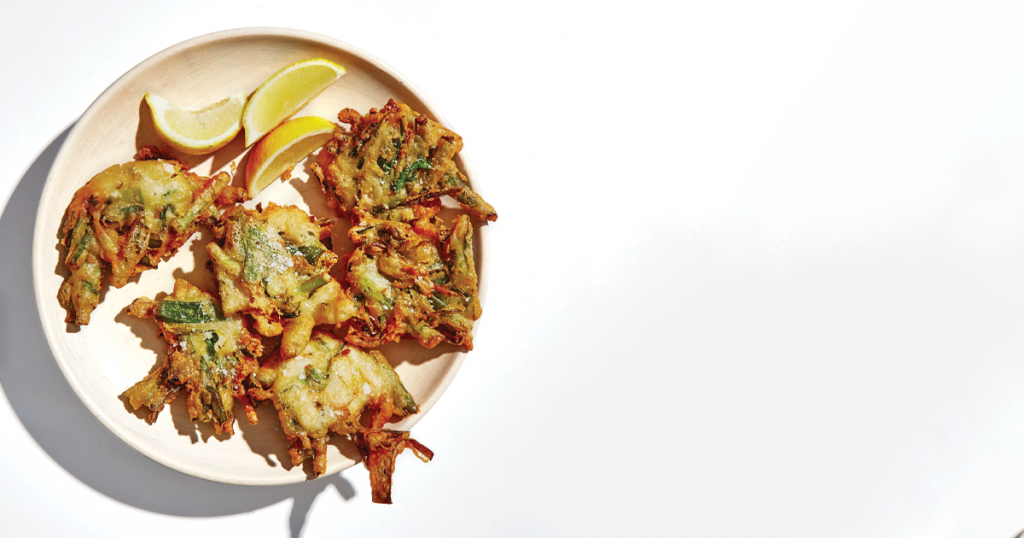 Ingredients – Serves: 20
10 ounces ramps
1 cup all-purpose flour
¾ cup rice flour
1 teaspoon baking powder
1 teaspoon sugar
1 teaspoon kosher salt
¾ cup club soda
6 cups vegetable oil (for frying)
Lemon wedges (for serving)
Special Equipment: Deep-fry thermometer
instructions
Remove any slippery outer layers from ramp bulbs. Trim roots, then soak in a bowl of cold water, swishing around gently to loosen any dirt.
Lift out ramps and blot dry with paper towels. Avoid cramming them in a salad spinner so as not to damage the delicate leaves.
Cut ramps into 1-inch pieces (should be about 5 cups). Whisk all-purpose flour, rice flour, baking powder, sugar and salt in a large bowl to combine.
Make a well in the center and pour in club soda. Whisk until smooth, then fold in ramps.
Pour oil into a large cast-iron skillet, fitted with thermometer, until oil comes 1 inch up sides. Heat over medium-high until thermometer registers 350 degrees.
Working in batches, place ¼-cup mounds of batter into skillet and press down lightly to flatten and submerge.
Fry, turning once, until fritters are golden brown, about 4 minutes.
Transfer to paper towels to drain and sprinkle with salt.
Serve with lemon wedges for squeezing over. Enjoy!
Reprint: This recipe originally appeared on BonAppetit.com, written by Claire Saffitz. To read more, click here.