Frontlines
The Army's COVID-19 Response Extends to 120 Countries
With 6.3 million coronavirus cases confirmed by the WHO, the pandemic remains a global crisis. In total,the, the Army's response now extends to 120 countries worldwide.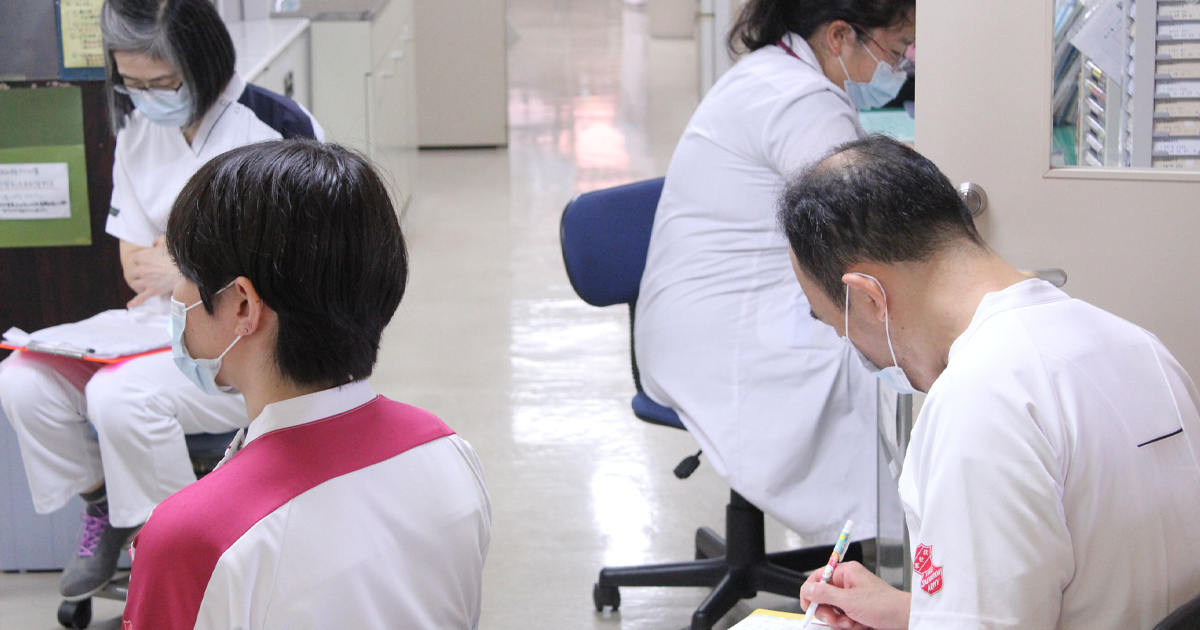 EMERGENCY food provision continues to underpin The Salvation Army's COVID-19 response around the globe. Hygiene supplies, health education, temporary accommodation and a broad range of other services are also being provided, subject to particular local needs and circumstances. With 6.3 million coronavirus cases confirmed by the World Health Organization, the pandemic remains a global crisis. In total, The Salvation Army's response now extends to 120 countries worldwide.
FEEDING
A new project in Madagascar seeks to improve nutrition for elderly people, pregnant women, nursing mothers and orphaned children – some of the most at-risk groups. Following approaches by the mayors of Alakamisy and Imerintsiatosika, plans have been developed to distribute three-week supplies of rice, beans and oil. Handwash is also being included in the packs, which will be given to around 400 individuals identified as being in need in these communities in the coming weeks.
Food parcels are also being distributed twice a week from The Salvation Army's centre in Port of Spain, Trinidad and Tobago. Scores of packages of essential food items are being given out at each distribution. The Salvation Army in Cuba is providing a similar service in the major population centres of Havana and Holguin, with more than 1,300 individuals receiving vital supplies so far. Toiletries and cleaning materials are included to support the important hygiene and health messages. Throughout May, The Salvation Army in Suva, Fiji, served up to 1,000 meals each week to help Fijians affected by the economic fallout of the COVID-19 pandemic.
The Salvation Army in Brazil is extending its food support programmes to a further 2,120 individuals from São Paulo to Recife and Brasília to Porto Alegre. Coordinating with the local social services operations, The Salvation Army will ensure that these extremely vulnerable people – in the favelas and other needy communities – are supported with baskets of food for a two-month period. With schools closed and social service centres working at reduced capacity, many children have lost access to the only cooked meal of the day. As in other locations, cleaning kits will also form part of the distribution, in order to amplify public-health messaging.
In Windhoek, Namibia, 'Ironman' triathlete Divan du Plooy got involved in The Salvation Army's efforts to help vulnerable people during lockdown. He thanked members of the public who had assisted the Namibian Triathlon Federation in its efforts to assist needy Namibians during lockdown. The Federation had teamed up with Spar/Checkers Namibia, Food Lovers Market, Farm Windhoek, The Salvation Army and the Namibia Red Cross in an initiative to collect non-perishable food for redistribution to people in need.
Du Plooy told The Namibian: 'I'd like to thank all those people who have assisted us by putting non-perishable items in specially located bins. We have collected more than 300 kg so far that we have given to the various organisations to help needy Namibians.'
HEALTH AND HYGIENE
The Salvation Army in The Bahamas found itself as the only source of hand sanitiser in the islands. Following the devastating Hurricane Dorian in August/September 2019, The Salvation Army had arranged shipment of a large quantity of hand sanitiser, 18 pallets of which remained warehoused after all needs were met. Divisional Commander Major Clarence Ingram explains: 'We were looking at various options on how to give it to facilities that could use it but the volume was more than could be easily managed. When the pandemic began there was a renewed need for hand sanitiser. We contacted the hospital and NEMA [the National Emergency Management Agency], both of which were very happy to receive the sanitiser as it was the only local source in the country.'
The Salvation Army in Mongolia has been distributing hygiene packages to vulnerable people, particularly older members of the community. With the support of colleagues in Korea, officers and volunteers have made house-to-house deliveries with the supplies, including at least 500 face masks so far.
In New York City, USA, The Salvation Army is partnering with other agencies to provide two of the three publicly-available free showering facilities in the metropolitan area. A number of these service users have started attending worship meetings at The Salvation Army. Across the US, more than the equivalent of one million nights of accommodation have been provided since the pandemic was declared, in order to help break the cycle of community transmission by facilitating realistic social distancing.
The Salvation Army's hospitals are still in the front line of triaging and treating patients presenting with coronavirus symptoms. For example, the Evangeline Booth Hospital in Ahmednagar, western India, is being used to isolate all COVID-positive individuals in the area. As of 3 June, the hardworking medical staff had cared for 150 coronavirus patients, with 73 being discharged free of the virus. Meanwhile, in the south-east of the country, The Salvation Army's Catherine Booth Hospital in Nagercoil is providing dentistry service, while adhering to all necessary safety precautions and regulations. Presently, the dental clinic is the only one open in the city.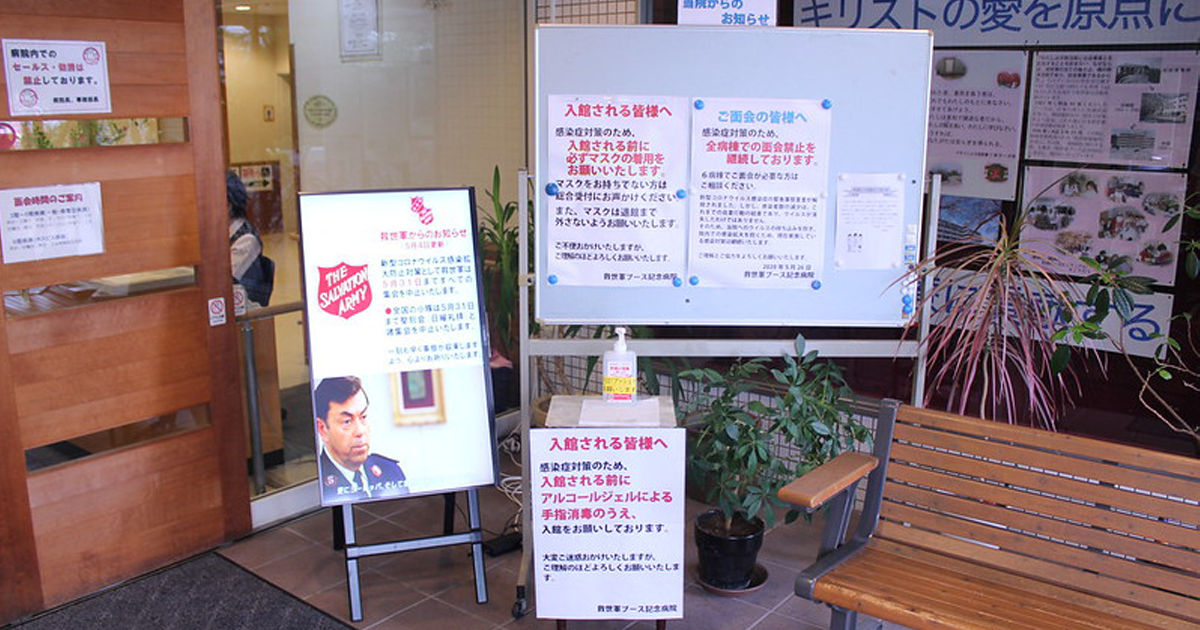 In neighbouring Bangladesh, The Salvation Army's Mirpur Clinic continues to offer a wide range of healthcare services despite the prevalence of COVID-19. Meanwhile, in East Kalimantan, Indonesia, three Salvation Army clinics have just received a donation of personal protective equipment including hazmat suits, face shields and masks which will ensure the staff can continue to provide essential services safely and hygienically.

In Japan, The Salvation Army's main hospital in Tokyo is now coronavirus-free, but enhanced hygiene and biosecurity precautions remain in place so that doctors and nurses can continue to provide extensive medical advice and treatment.
WRAPAROUND CARE
As some countries carefully relax restrictions on movement, The Salvation Army has been agile in responding to changing needs. In the city of Klaipėda, Lithuania, The Salvation Army's thrift store has been able to reopen with rigorous hygiene and social distancing measures. This has been done in order to provide a source of affordable clothing to Lithuanians experiencing financial hardship because of the effects of COVID-19.
Clothes are an increasingly important part of The Salvation Army's coronavirus response in Argentina. As the weather begins to change with the advent of the southern hemisphere's autumn, members of The Salvation Army's Bariloche Corps (church) have identified the need for clothes – mainly warm coats – to be donated to those in need in their neighbourhood. These are being offered alongside their continuing food distributions in the community.
In the United Kingdom, at a time when unemployment is increasing at the most rapid rate since records began, The Salvation Army's Employment Plus service continues to offer telephone and online support to those looking for alternative work or training opportunities. The Salvation Army's Debt Advice Service is helping thousands of people work out how to pay their next bill. Also, The Salvation Army is continuing to maintain its extensive network of safe houses for victims of modern slavery and is meeting emotional support needs for people who have escaped slavery and now have the additional burden of having to self-isolate.
The Salvation Army's Haus Erna accommodation for homeless men in Vienna, Austria, has been offering additional emotional care for clients concerned about coronavirus. It has also been providing enrichment by organising an online concert for residents and others connected with The Salvation Army, performed by renowned flautist Matei Ioachimescu.

'Music connects,' explains the organisation's Facebook Page, 'and attachment is exactly what we need in times like this.' Virtual concert-goers were invited to enjoy their time listening to the talented performer while also thinking about those affected by COVID-19 with the 'hope that we will come out of this crisis united and strengthened'.